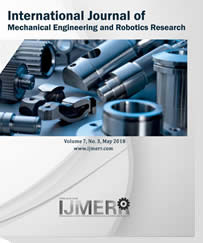 International Journal of Mechanical Engineering and Robotics Research. IJMERR is a scholarly peer-reviewed international scientific journal published bimonthly, focusing on theories, systems, methods, algorithms and applications in mechanical engineering and robotics. It provides a high profile, leading edge forum for academic researchers, industrial professionals, engineers, consultants, managers, educators and policy makers working in the field to contribute and disseminate innovative new work on Mechanical Engineering and Robotics Research. All papers will be blind reviewed and accepted papers will be published bimonthly, which is available online (open access) and in printed version.
Recently Published Papers
Static Analysis on the New Piston Retaining Frame of One-Stage Gasholder
Jia Dongyun, Liu Jianwen, and Gao Zhan
School of Civil Engineering and Architecture, Anhui University of Technology, Ma'anshan, China
The piston retaining frame is an important supporting structure in the sealing system of the one-stage gasholder. A new type retaining frame is designed with simple form and high bearing capacity. In the paper, the integral deformation of the structure, the deformation and stress of the vertical rigid frame, and the stress of the members of the circumferential bracing system are respectively obtained through the FEM static analysis...[Read more]
ISSN: 2278-0149
Editor-in-Chief: ​Prof Richard (Chunhui) Yang, Western Sydney University, Australia
Associate Editor: Prof. B.V. Appa Rao, Andhra University; Prof. Ian McAndrew, Capitol Technology University, USA
Managing Editor: Murali Krishna. B
DOI: 10.18178/ijmerr
Abstracting/Indexing: Scopus (since 2016),

CNKI, Google Scholar, Crossref,

etc.
E-mail questions to IJMERR Editorial Office.
​
Prof Richard (Chunhui) Yang
Professor of Mechanical Engineering and Smart Structures, School of Computing Engineering and Mathematics, Western Sydney University, Australia. His research interests cover Industry 4.0, Additive Manufacturing, Advanced Engineering Materials and Structures (Metals and Composites), Multi-scale Modelling of Materials and Structures, Metal Forming and Metal Surface Treatment.




International Journal of Mechanical Engineering and Robotics Research
E-mail:
ijmerr@ejournal.net